Adult Products For Women
The We-Vibe


Unique in design, this revolutionary product is the first ever toy that can be used while making love. The innovative design allows for both external and internal stimulation for women engaging in both solo and partner play.

The We-Vibe is hands free, strap free and wireless. Created from medical grade silicone, the We-Vibe is soft and conforms to the female shape, making it comfortable and easy to use. You insert one "arm" into your vagina where it hits your G-spot and the other one sits comfortably on your clitoris, giving you double the pleasure. The silicon is very flexible and bends to suit your shape. Very quiet and best of all it's rechargeable!
This is the sex toy everybody is talking about. Believe me, it's worth checking out!

Lelo Lily Pleasure Object


Lelo are helping to redefine the sex toy with their amazing range of "pleasure objects." This little baby produces amazing vibrations and the unique design means it can be targeted right on your clit. It's also very small and discreet and doesn't look anything like a sex toy! It's rechargeable, very quiet, comes in range of colours and also has a 1 year warranty. This is one sex toy you HAVE to own!
Waterproof Jackrabbit Vibe


The rabbit has earned its reputation as the most famous vibrator in the world. It really does give a lot of bang for your buck. 100% waterproof for fun in or out of the water. The playful rabbit with its synchronized rotating metal beads and reversing action has 3 speeds of vibration, 3 speeds of rotation, and one touch activation. EZ load battery case. Uses 3AA batteries
Available in Pink and Purple.
Vibrating Make Up Brush


Give powder-breaks a whole new meaning with this vibrating make-up brush! This discreet brush is so stylish and sexy, it can easily pass as part of your makeup bag! The Mini Makeup Brush doubles as a mini massager and hides easily in your purse too. Turn it on and let the quiet vibrations and soft bristles seduce you. Great for your afternoon commute, bathroom breaks, solo play at home or in the office. Brush some excitement into your next encounter with this thrilling massager. Uses 3LR44 Batteries
The Cone


This has to be the most unusual-looking sex toy on the market. It started life as an S&M object but it proved to be "too comfortable". The makers improved it by fashioning the Cone out of very soft plastic and adding vibration.
According to the Cone's creators: "The shape has several benefits. Its hand-free to start with and because its only moderately penetrative, some of our testers found that it seems to tighten the area in which it was being used! We are still looking into the benefits of this in muscle rehabilitation. Users noticed an increase in libido and increased sensitivity too!"
Menu
Erotica Sites
Erotica for Women Books
Female Friendly Movies
Free Erotica Galleries
Free Erotic Movies
Recommended Adult Products
What is "Erotica for Women"?
Censorship in Australia
Home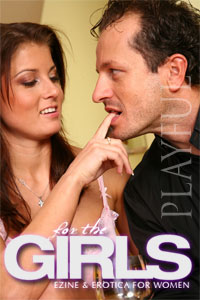 For The Girls - the largest and most comprehensive adult site for women on the net.
Enjoy exclusive movies, erotic ficion, sexy couples, the hottest naked men, articles, columns, interviews, podcasts, sex advice, reviews and heaps more. You get access to over 6 years worth of content!