Erotica Movies For Women
The pantheon of erotica for women movies has been growing over the last few years. There's now a wide variety of porn made for women available with something to suit every taste, be it romance, softcore, gonzo, hardcore or queer.
The following movies are just a sample of what's out there. If you want a comprehensive listing of female-friendly erotica films visit Porn Movies For Women.
Tristan Taormino's Expert Guide To Female Orgasms (2010)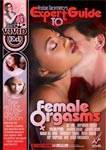 The blurb: Are female orgasms as unique as the women who have them? Absolutely. Yet too many women struggle in the search for erotic fulfillment alone or especially with a partner. Do you want to teach your partner how to help you have an orgasm during sex? Do you want to have better, longer, easier. or more intense orgasms? Let renowned sex expert Tristan Taormino dispel any myths and share with you the wonders of female orgasm.

Watch as five diverse couples speak openly, share advice, and demonstrate techniques that work for them. Their intimate, personal, journeys reveal how each woman achieves and experiences orgasm in very different ways.

Available From
Ms Naughty: DVD
Gamelink: DVD or Download
Babeland: DVD
Good Vibrations: DVD

Women Love Porn (2010)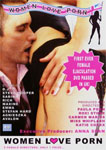 The Blurb: Anna Span sent out a challenge to the UK's female film makers to shoot their sexual fantasies. Out of hundreds of replies, she selected the best five to go forward on the next level, to compete for a movie of their own. Only one woman can win.
This film contains the first female ejaculation scene passed by the UK censors. After a long and difficult legal battle, Anna got the board to admit that ejaculation wasn't urination.
Available From
Gamelink: DVD or Download
Strictly Broadband: Download
Under The Covers (2007)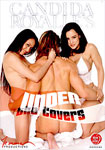 Candida Royalle is a pioneer of women's erotica. She first began making porn films for women in 1984 and hasn't looked back. Her movies have remained constantly popular and always offer a great story, plenty of laughs and lots of hot sex.
The blurb: A humorous look at women who live and work in the sex industry. Regina West is a TV personality who is doing a special about women who have changed how we view sex. Through a series of interviews and hilarious mishaps, we discover that what these women present to the public isn't always what they are in private.
Available From
Ms Naughty store: DVD
Gamelink: DVD
Sex Superstore: DVD
Hotmovies: Download
Female Fantasies (2006)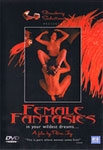 Petra Joy is a British filmmaker determined to create quality porn movies for women. Her films are among my favourites, especially this one.
The blurb: Petra Joy's second erotic film is a visual feast celebrating sensual pleasures and the art of seduction, Female Fantasies is based on erotic fantasies that were sent to Petra by her female clients and friends. True to her motto of "feeling it, not faking it" these fantasties were captured on film with performers who are also real life lovers, rather than professional porn stars. The fantasies featured in the film go far beyond the cliche of "romance and roses" - from secretly watching a man playing with himself to being totally pampered by five skilled lovers at once - all erotic scenarios focus on female pleasure rather than male satisfaction. Female Fantasies aims to inspire and excite you, May you enjoy these erotic dreams, and make your own come true…

Available From
Strictly Broadband
Or direct from Petra's Site Female Fantasies
Matt and Khym: Better Than Ever (2006)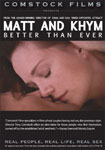 Comstock Films create erotic documentaries starring real people talking about their sex lives - and then inviting us into their bedrooms.
The blurb: Barely out of their teens when they got together, Matt and Khym spent many years generously taking care of others instead of concentrating on themselves. Now in their thirties, Matt and Khym are taking the time to rediscover the joys of married life and married sex.
"The film doesn't set out to create a fantasy; it's the eroticism of everyday life that Matt & Khym is after, and it gets hold of it with wet, hot, cuddly abandon, and never lets go."—Thomas S. Roche, Eros Zine
Available From
Buy this from the makers at Comstock Films
Gamelink: DVD
Hot Movies: Download
Babeland: DVD
Playgirl's Erotic Collection 4 Disc Set (2007)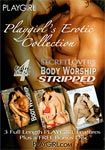 Playgirl in partnership with Wicked films have been creating a whole bunch of erotic films aimed at women. They're fairly standard in a lot of ways but the production values are superb.
The Blurb: Get three full-length Playgirl features plus a free bonus disc. Includes BODY WORSHIP…There are some desires so monumental you must give in, You must obey, Fall to your knees and raise your voice. Give yourself over, you have a choice. STRIPPED…Strip away inhibitions, Strip away rules, Strip away the artifice, It's time to dive in! SECRET LOVERS…Behind the closed doors of the heart, where dreams and desires take hold and reality fades into a hazy memory, there is a power! Set your passions free and embrace what your mind has whispered all along! After all, everyone deserves a secret lover! This Wicked DVD Sampler is a glimpse at a few of our latest features with couples in mind...WHAT EXCITES YOU?!
Available From
Ms Naughty store: DVD
Sex Superstore: DVD
Five Hot Stories For Her (2006)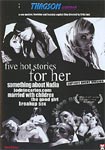 Erika Lust is a Spanish filmmaker with a passion for women's erotica.
The Blurb: FIVE HOT STORIES FOR HER is a compilation of five short films written and directed by Erika Lust, created specially for women and couples. Erika presents five modern, urban, spicy and explicit stories, where the sex takes place in a natural and realistic atmosphere.

Scene 1. SOMETHING ABOUT NADIA is about the power of attraction that a beautiful brunette has on other women.

Scene 2. In JODETECARLOS.COM a soccer player cheats on his wife, who plans an exquisite and creative revenge.

Scene 3. MARRIED WITH CHILDREN is a story about a couple trying to combine their everyday life with an exciting sex life.

Scene 4. THE GOOD GIRL we witness the evolution of a good girl towards a more liberated spirit.

Scene 5. In BREAKUP SEX two gay men have their last sexual encounter.
Available From
Hot Movies: Download
Trial Run (2007)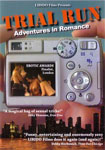 Libido Films, run by two academics, aims to feature real couples and has a distinct focus on making sure the women enjoy themselves, especially through vibrator use during sex. Really interesting storylines and great acting.
The blurb: Tired of not having a boyfriend, Leah tries internet dating. To her great surprise, she meets her perfect match. But is he who he says he is? Leah's girlfriend, Eve Minax (who happens to be a dominatrix), offers to step in and screen her potential lover-setting off a series of unexpected fireworks.
Starring: Natalia, Adrian Sullivan, Mistress Eve, Minax, Dante, Samantha, Darkluv, Dylan and Tony Erik

Available From
Gamelink: DVD or Download
Libida: DVD
Hot Movies: Download
The Crash Pad (2005)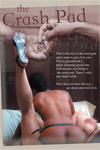 Shine Louise Houston and Pink and White Productions are the primary producers of authentic lesbian adult films. This is her first movie.
Winner of the "Hottest Dyke Sex Scene" award at the 2006 Feminist Porn Awards.
According to Babeland: "Lucky San Franciscans are given a key to an apartment that serves as a venue for wild sexual encounters. Many of the performers in this queer-oriented film are lovers in real life as well, and they don't hold back in demonstrating their attraction and pleasure."
According to a review at Libida: "We have bois on bois, Butches with femmes, three ways with a happy voyeur, and a masturbation scene with a woman with a slow hand and eyes that seduce the camera. There's even a scene with female ejaculation the way it really works between women."

Available From
Babeland: DVD
Gamelink: DVD
Personal Touch 3: Exploring The O (2007)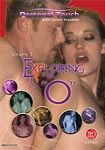 Jamye Waxman is a writer, filmmaker and author, best known for her sex advice column at Playgirl magazine. She's created an instructional series.
The blurb: From the G Spot to the even rarer anal orgasm, Playgirl advice columnist Jamye Waxman explores all the different ways you can reach a mind-blowing orgasm! This fun and frank educational video is ideal for women of all ages who are interested in learning more about their bodies and exploring their sexuality… provided they're not afraid of a vagina puppet! Even guys will learn more than a few tips about pleasing their partner. 3 scenes. 87 minutes.

Available From
Ms Naughty: DVD
Gamelink: Download
AEBN: Download
Hot Movies: Download
Handyman (2006)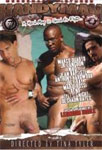 Tina Tyler made her name as "the thinking man's porn star." With the Handyman series Tina set out to capture straight men masturbating for an audience of women.
A hard man is good to find... Straight pornstar hotties get naked and masturbate for the camera. This film features a delightful selection of very sexy men stroking themselves to orgasm...

Starring: Lexington Steele, Joey Ray, Anthony Hardwood, Mario Rossi, Tyler Knight, Marco Banderas, JR Langdon, Jean Baptiste, Deshaun Hayes, Niko, Reno

Available From
Ms Naughty store: DVD
Gamelink: DVD or Download
Hotmovies: Download
All About Anna (2003/2008)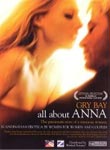 Innocent Pictures is a spin off from Lars Van Triers philosophy of "dogme" in filmmaking. This movie is a serious drama with real sex added.
Anna (Gry Bay) is a young costume designer, focused on her job and wary of getting caught in romantic relationships. She has just found a new apartment, and is tempted to let her latest boyfriend, Frank (Thomas Raft), move in with her. Instead, she finds a tenant: The flamboyant, fun-loving Camilla (Eileen Daly), who shares Anna's views on love and commitment. For both of them, it's all about fun. Strangers without strings. No commitment, no casualties. But Anna's resolve is challenged after an unexpected encounter with an ex-boyfriend, Johan (Mark Stevens), who once upon a time was the man in her life. Johan is ready to start over, and Anna is tempted – but also afraid of losing her newly won independency and, not least, of getting hurt. More than ever, she needs to get back on the merry-go-round and move on. In order to forget all about Johan's existence, she stages one obstacle after another. Fortunately, she receives an offer to design costumes for a theatre in Paris. As far away from romantic temptation as possible. Or so she thinks.
The Official Blurb: 2-Disc Set. The passionate story of a sensuous woman! Scandinavian erotica by women for women and couples! Shot entirely on location in Copenhagen and Paris. Includes 16-page promotional booklet!
Available From
Ms Naughty store: DVD
Gamelink: DVD
Sex Superstore: DVD
Intense Desires (2008)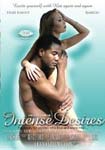 Lennox Films aims to make movies "for women who love men." Their focus is usually on the guy during sex scenes. Their movies are relatively standard but they look good.
The blurb: Awaken your sexuality with sex therapist, Denis Marti. Rekindle intense desires using methods of Fantasy Role Playing. Couples pretend they are strangers who just met, experience Swinging or excite each others senses while wearing a blindfold. Ladies, try some Fantasies of your own and revive your INTENSE DESIRES. Shot in High Definition.
Starring: Denis Marti, Kurt Lockwood, Mario Rossi, Tyler Knight, Steven St. Croix, Flick Shagwell, Aria, Julie Night, Bamboo, Kimberly Kane, Alicia Rhodes

Available From
Ms Naughty: DVD
Gamelink: DVD
Sex Superstore: DVD