Welcome to Erotica for Women Australia, your one-stop resource for women's erotica books, websites, adult products and sexuality information.
Erotica made just for women can be tricky to find amid the avalanche of porn that's available online. So much of what's out there is designed for men and it's often offensive or just downright stupid. We're here to help you find porn and erotica that speaks to YOU, the women of Australia.
Erotica for women is sexually explicit material that seeks to cater to the interests and tastes of women. It gives priority to the female experience of sex and celebrates female pleasure.
Featured Videos from Bright Desire
Recommended Reading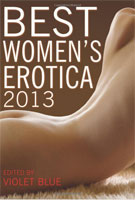 Best Women's Erotica 2013
The blurb: Violet Blue is on a mission. With the aim to entertain you with the sexiest, smartest women's erotica anywhere, she will trigger your erotic imagination. From the sweetly romantic to the bold and daring, each of the eighteen stories in Best Women's Erotica 2013 provides the spark to your flame.

The shy, redheaded heroine of Valerie Alexander's "Night School" explores her very kinky desires with an unlikely submissive while working at a small-town hotel. In Krissy Kneen's "Susanna," a virgin enjoys her first taste of lust and learns that the true language of love has very little to do with words. A burly mechanic rescues the Assistant D.A. and her broken-down car but makes her ear the favor in Jenny Lyn's "The Tow Job."

Best Women's Erotica 2013 is a playbook of delectably sexy scenarios to add to your sensual repertoire. Award-winning editor Violet Blue presents "explicit sex at the dizzying heights of exquisite fantasy with the lights on, and you, the reader, get to see everything."

Note: Ms Naughty has a great story included in the 2009 AND the 2012 collections!
Recommended Viewing
Under The Covers
Candida Royalle is a pioneer of women's erotica. She first began making porn films for women in 1984 and hasn't looked back. Her movies have remained constantly popular and always offer a great story, plenty of laughs and lots of hot sex.
The blurb: A humorous look at women who live and work in the sex industry. Regina West is a TV personality who is doing a special about women who have changed how we view sex. Through a series of interviews and hilarious mishaps, we discover that what these women present to the public isn't always what they are in private.
Available From
Ms Naughty store: DVD
Gamelink: DVD
Sex Superstore: DVD
Hotmovies: Download
Menu
Erotica Sites for Women
Erotic Fiction Books
Female-Friendly Erotic Movies
Free Galleries
Free Movies
Recommended Adult Products
What is "Erotica for Women"?
Censorship in Australia
Sexy Sample Galleries From FTG


Recommended Sites
Recommended Product
Unique in design, this revolutionary product is the first ever toy that can be used while making love. The innovative design allows for both external and internal stimulation for women engaging in both solo and partner play.

The We-Vibe is hands free, strap free and wireless. Created from medical grade silicone, the We-Vibe is soft and conforms to the female shape, making it comfortable and easy to use.
This is the sex toy everybody is talking about. Believe me, it's worth checking out!